Garages (Cart Sheds) & Stables
These days we all have cars and, if space allows, an oak framed garage can be a great addition to your home. These can take many forms, shapes and sizes but usually are of a bay construction with an oak support frame. These buildings can have great versatility utilising the roof spaces for home offices or additional accommodation.
If you are looking for information about oak garages put those words into Google and you will get about 60 different companies telling you they are the best and the cheapest. We are not the cheapest but we are one of the best. We layup our oak framed garages in the same way we deal with all of our oak framed structures, in a truly traditional oak frame carpentry style. This is how it's done…
After the design has been agreed, drawings prepared and planning permission granted (yes, we can deal with all these things) we will prepare the base and foundations on site. Whilst the site preparations are taking place we will start the oak frame layup in our workshop. The first thing we do is draw the base footprint full size on the workshop floor. We then lay each beam over the footprint, supported on blocks.
We then position each beam with the use of a plum bob and string line off the foot print. When the frame is fully marked out we will cut the mortice and tenon joints. We always use draw-bored joints, an ancient carpentry practice whereby oak pegs are driven through the side of the mortice. The holes in the side of the mortice and the holes in the tenon are drilled slightly off centre and when the pegs are driven in the joint pulls up tight.
On completion of the oak frame manufacture we will cut the softwood roof, ready to be erected on site. Yes, if you dig deep enough on the internet you can buy garages for very cheap prices. If you come to us you will pay slightly more but you can rest assured that the product you will get will be built in a completely traditional fashion with the end product second to none - a historical building of tomorrow.
We can supply your garage as a kit for self erecting, or we can supply and erect. So if you are looking for a cheap garage please check out Google but if you are looking for a reasonably priced garage built to a high standard using traditional oak framing methods, please get a price from us. You might be pleasantly surprised.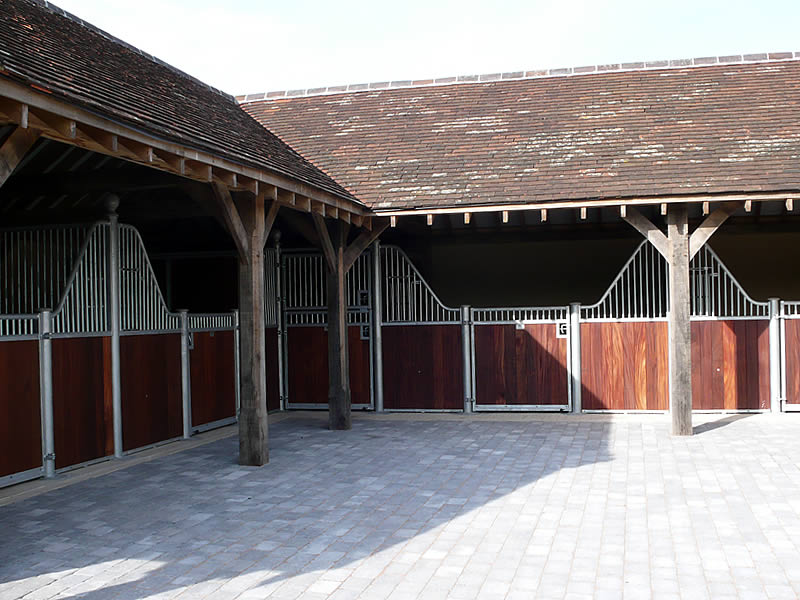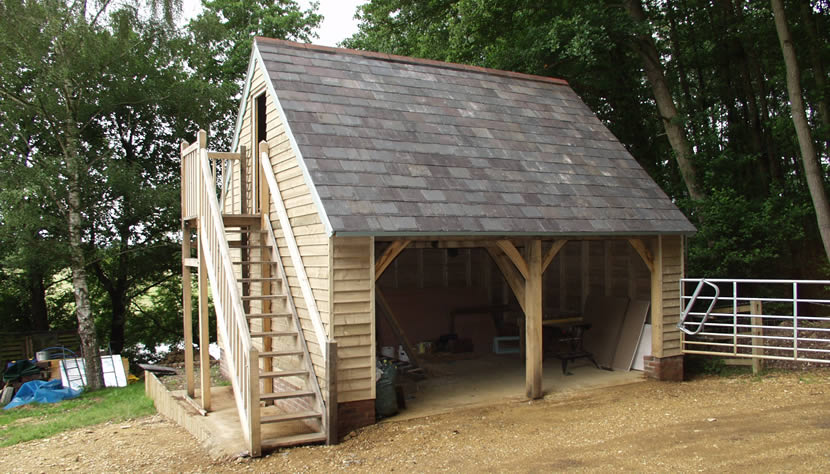 Oak framed garages built to your exact requirements